Event:
Proust's Muse Symposium
Thursday 20th October 2016
Katie Murphy Amphitheatre
Fred P. Pomerantz Art and Design Center,
First Floor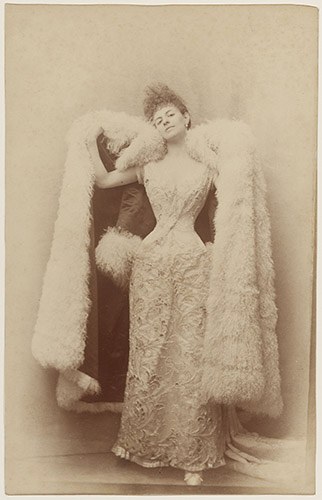 Photograph by Otto, the Countess Greffulhe in a ballgown, circa 1887.
© Otto/Galliera/Roger-Viollet
The Museum at FIT presents its 16th academic symposium Proust's Muse. The day-long symposium is organized in conjunction with the exhibition Proust's Muse, The Countess Greffulhe. Researchers from the United States and Europe will discuss the connections between fashion, patronage, literature, and the arts in turn of the century France. The Countess Greffulhe was a champion of the arts, who influenced literature, ballet, and music. The French composer Gabriel Fauré dedicated his slow processional piano piece—Pavane—to her, and she was a major supporter of the Ballets Russes, an itinerant ballet company based in Paris. She also supported the scientist Marie Curie, and the unjustly-imprisoned Jewish army officer, Alfred Dreyfus.
Some of the speakers featured in the symposium will include:
Olivier Saillard, Director of the Palais Galliera and organizer of La Mode retrouvée: Les robes trésors de la comtesse Greffulhe, an exhibition on which Proust's Muse is based;
Dr. Heidi Brevik-Zender, Assistant Professor of French and Comparative Literature, University of California, Riverside, who will discuss fashion and French literature;
Dr. Mary Davis, Dean of the Graduate School at FIT, who will speak on the Countess Greffulhe's impact on music and ballet;
Dr. Susan Hiner, Associate Professor of French and Francophone Studies at Vassar College, who will speak on women in nineteenth-century France;
and Philippe Thiebaut, curator and scientific advisor at the Institut National d'Histoire de l'Art (INHA), will speak on Robert de Montesquiou: men's fashion in art.
Further details and registration for the event is available via:
http://www.fitnyc.edu/museum/events/symposium/prousts-muse/index.php
Event – Proust's Muse Symposium, 20th October 2016, The Museum at FIT, New York, NY, USA
Clients